FEATURE FILM: Zhang Tianzhi: Wrapped! After 89 days of major movie motion picture making!
Photos by Cloud Wang, Wang Kai, David Fu, Jiang Feng and myself
First two weeks in Hong Kong
I spent two weeks in Hong Kong doing the first bit of prep work before moving on location in Foshan.
Test day at U-gear
We ended up working with U-gear. A company out of shanghai, ran by Hong Kong Key grip Louis Jong. They were very accomodating and even opened a branch in Guangzhou for our show.
L.A.P. Test in Shanghai
An incredible handy tool from time to time. We ended up using the Low Angle Prism quite a bit.
Set construction
A month before we would start shooting it was decided to build two big sets in this studio.
DIY Lighting
The Gaffer we worked with - Zhang Yong - was very crafty with his light rigs.
Wedding photographers
Almost the entire film was shot on a back lot in Foshan - south China. The 'National Arts Studio" consists of a handful of streets in different styles. Besides movie making they are also used as a backdrop for hundreds of newly weds to come have their wedding pictures taken.
Pre-lighting
Zhang Yong had the entire studio rigged with softboxes and black cloth.
Pre-lighting and crane testing
Cloud Wang at his best!
A decisive moment that Cartier-Bresson would be proud of!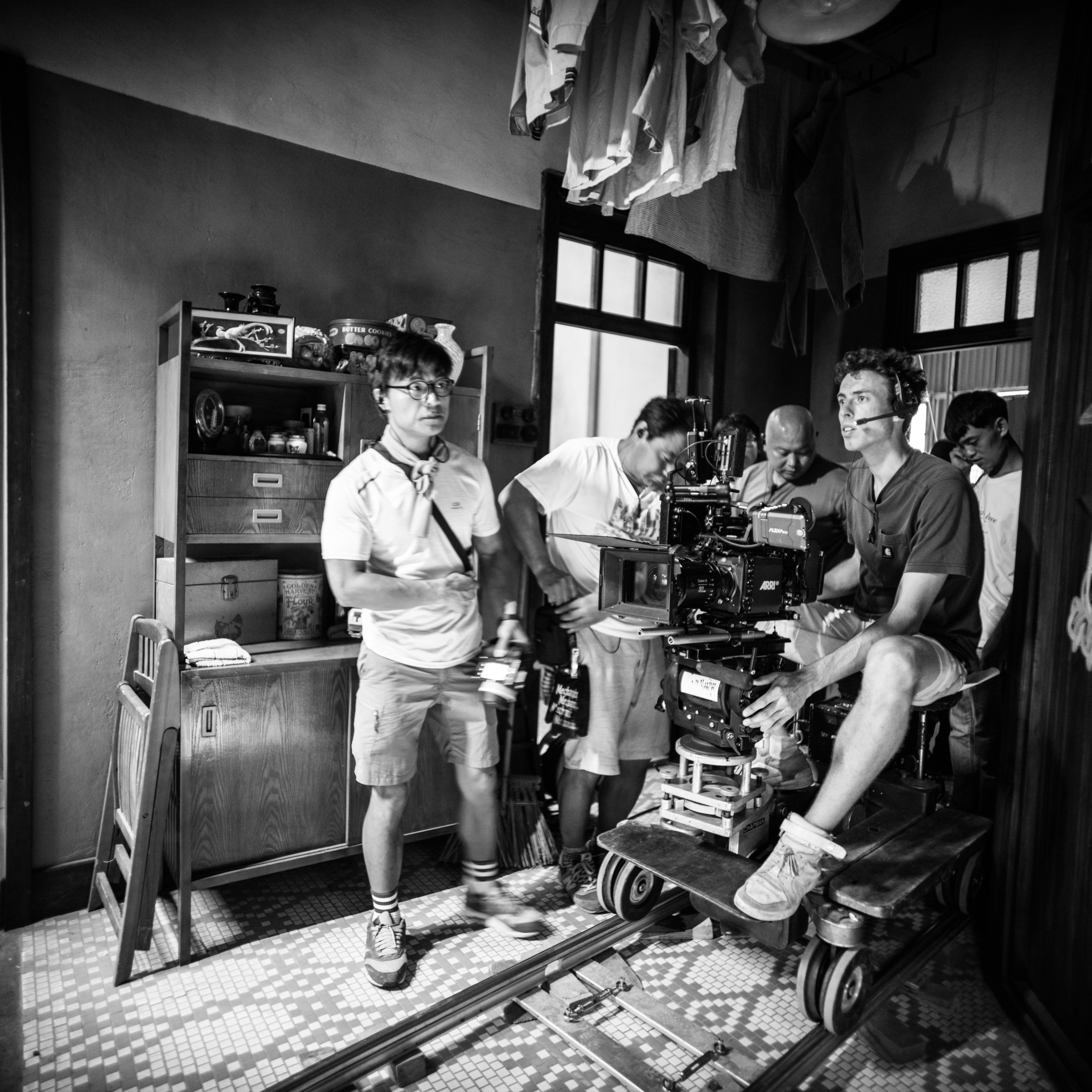 Black Cloth
Zhang Yong - Gaffer - bought and processed 4 km of black cloth to black out all the different sets.
The Convoy
On their way from the tent to set; Director Yuan Woo-ping, his brother right behind him, followed by lead actor Max Zhang, Co-DP David Fu and script supervisor Fanny Lee.
Michelle Yeoh
With key grip Steven Law, Gaffer Zhang Yong, and David Fu
Action!
Grip best boy Lao Ba pushing the dolly. Over time he became my favorite subject for set photography. Picture by Cloud Wang.
Michelle's wrap night
Suddenly everyone wanted a photo with her. She had to be escorted out of the building.
Michelle's wrap night
We had about 100 extra's that day, who all hoped to get a souvenir picture with Michelle before she left. Chaos! Photo by David Fu
Lighting team on the roof of the set
Lao San pulling the focus of his life!
The B-cam focus puller was out a couple of days with a back injury, so the second AC on the A cam, Lao San, jumped in. He was stress-sweating most of the time
Huzi having a quick nap
B-cam operator Fang Zhenhu - Huzi - was a real pleasure to work with. Very charming person and a great operator.
Huzi using the viewfinder
We ended up using it a lot less then we anticipated.
Laoba, always good for a picture!
1ste AC Wang Zhengqian
Breaking down the camera after we moved on from a setup. Picture made by his brother.
Max Zhang enjoying his tobaco
Laoba tiptoeing along the track
Bobo!
Whenever props were needed people would call out for this guy - Bobo - who has a real treat on set. Great sense of humor and endless energy.
Caught during sneaky McDonalds break
Another brilliant props guy, Gongzai, and his buddy Feizai... real funny guys.
Looking at QTake
Stunt choreographer Chen Chao shows Max and his stunt double Qizi the playback on the last take.
Sun finally coming up after a long night
We spend most of the summer shooting nights.
Russian extra's with ambitions
They were sparring and playing around behind set, possibly hoping to impress some of the stunties. not sure it works
Max and Dave waiting to go again
Laoba being his photgenic self
He would always pick a spot that was just begging to be photographed.
The warehouse
It was a fun and good looking location but the fiberglass dust in the air combined with the heat made it a tough couple of nights.
Tea Girl Molly
Always a smile! Quite a character!
B-cam focus puller Ma Xiya
Dave Bautista
A true pleasure to work with!
Stunty Huazi ready to be flung up in the air
Dave and the make-up girls
All holding up a little fan to cool him down.
Laoba in a great spot again!
Baye and David Fu looking at an angle
Max getting ready for a tracking shot
Safety first!
Steven really liked building bunkers around the camera's whenever there were things flying towards them.
Camera department + Zhangyong
Did you get it?
Shooting up at a gun flying through the air
Waiting for the rain to stop
Production manager Gao Lao
Cloud Wang
both a great soundman as well as a phenomenal photographer. His set photography was next level!
Zhangyong and his Ipad
Never took his eyes of the Qtake, and always with a smile. Such a pleasant person to work with!
Zhangyong getting his 5AM enegery boost
Just before wrapping in the early AM he would start dancing and bouncing up and down behind his Qtake screen.
Moon Boxes
We did a lot of our night exteriors with one or two of these.
Insomnia medicine
The camera department was struggling with insomnia from all the long nights and getting to bed by 9 AM. Red Wine was their saviour.
Grip department
Steven and his best boy exchanging opinions.
The camera truck
We sorted out our own food for the entire show. The team decked out the truck with a coffee machine, fridge and microwave.
the daily dinner before we start shooting
Zhang Feng!
Our kid star! In a moment of fatigue and despair.
Fengge operating the A-cam
He tried almost all positions within the camera department. His focus pulling was pretty descent.
Rainy nights
We got very lucky with the weather. Of the 89 shooting days we only wrapped early due to the weather ones.
On-set doctor patching up Bobo
Egg crates doing their magic!
Mr. Shui
Production manager, taking a leisurely walk around set.
Feng Ge being a real pro amongst his new friends
Fengge and Dolly grip A-Kang
Towards the end he had buddies in each department.
Props propping up a deathbed
Zhang Yong in the spotlight
Ma (lai) Xiya
Squatting on an apple box
Xiya (Tu) in the police station
An extra taking his performance very serious
Q-Take was a bit early that day
Last day!
Steadycam-on-crane-type of deal.
The last day
dramatic skies potentially threatening our final wrap time.
Director and actor discussing a scene
Cast getting their brief from the director
Zhang Yong and his smokes
On set Nurse taking a cheaky nap
Clearing out the last remainings of the sets